Environmental
Sustainable Communities
Killam works towards minimizing its impact on the environment by investing in sustainable solutions, renovations and technologies.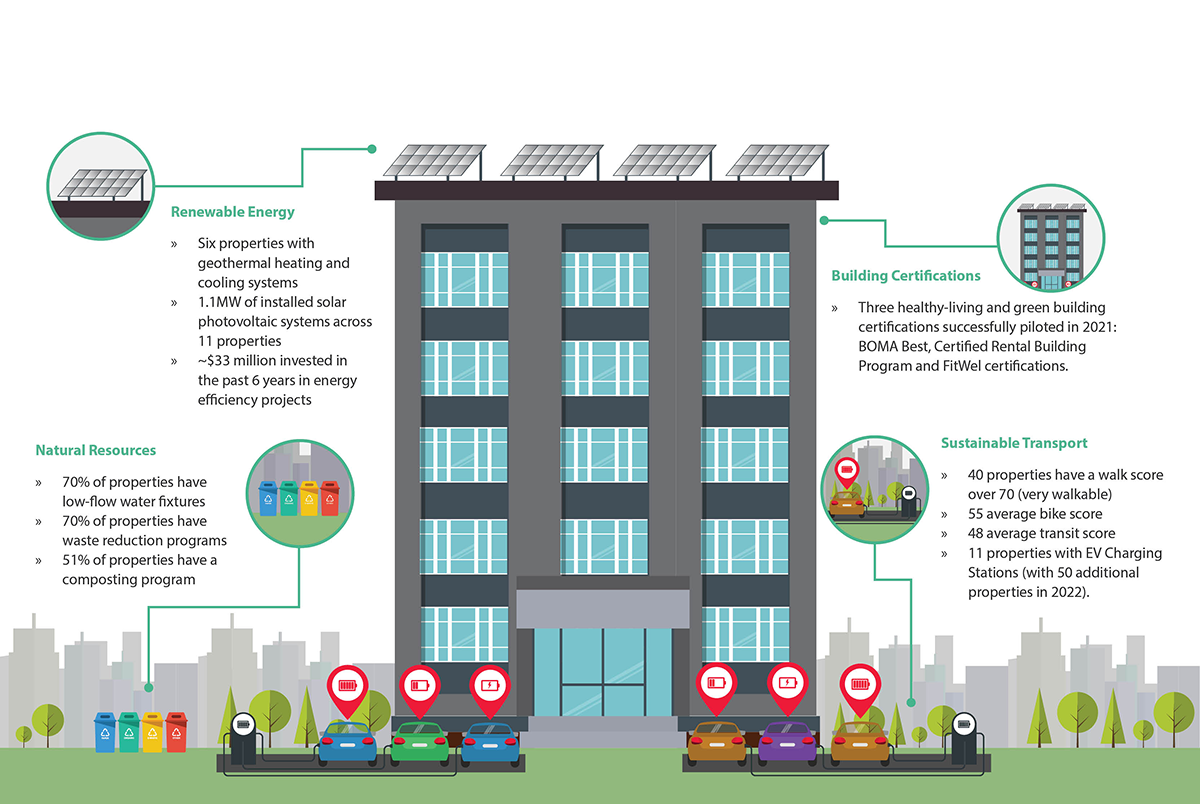 Environmental
Energy Management
At Killam, resources are used in a responsible manner to preserve and protect the environment. By reducing our use of natural resources and managing waste responsibly, Killam limits its environmental impact and lowers its operating costs. Working towards a better environment by taking sustainable actions is a responsibility Killam takes seriously.
 

Energy Management | Developments
 
More than $350 million in new developments have been designed and built over the last 10 years using strategies aimed at improving performance across important metrics, including energy savings, water efficiency, the stewardship of resources and sensitivity to their environmental impact. Killam focuses its development activity in urban cores and in highly walkable suburban sub-markets. Technology and renewable resources are used whenever feasible with the intent to create green and sustainable homes for its residents. From LED lighting and motion-sensing technology, to geothermal heating and cooling, energy conservation and a low-carbon footprint are important components of Killam's development design.
 

Energy Management | Operations
 
This includes sub-metering electricity, water and heat, reinsulating exterior walls and attics to reduce heat loss, installing boiler economizers to recover wasted exhaust heat, and switching heating fuel from oil to natural gas and propane. Solar photovoltaic installations continued to be rolled out across the portfolio. Killam oversees its energy management by including real-time peak demand monitoring at select properties and regular data analysis on energy and water consumption. Killam is exploring opportunities to convert fossil fuel based heating systems to electricity in the future.
 

Energy Management | Acquisitions
 
Killam aims to acquire newer, more energy-efficient buildings where possible. During the acquisition due diligence process, Management analyzes and considers the potential acquisition's features and ability to contribute to sustainability and the long-term value for its unitholders. Along with energy-efficient buildings, there is demand for upgraded units across the portfolio. Killam's extensive suite renovation program and common area upgrades allow it to improve energy efficiency and sustainability throughout the apartment portfolio, while delivering upgraded amenities to its residents.
Environmental
Greenhouse Gas Emissions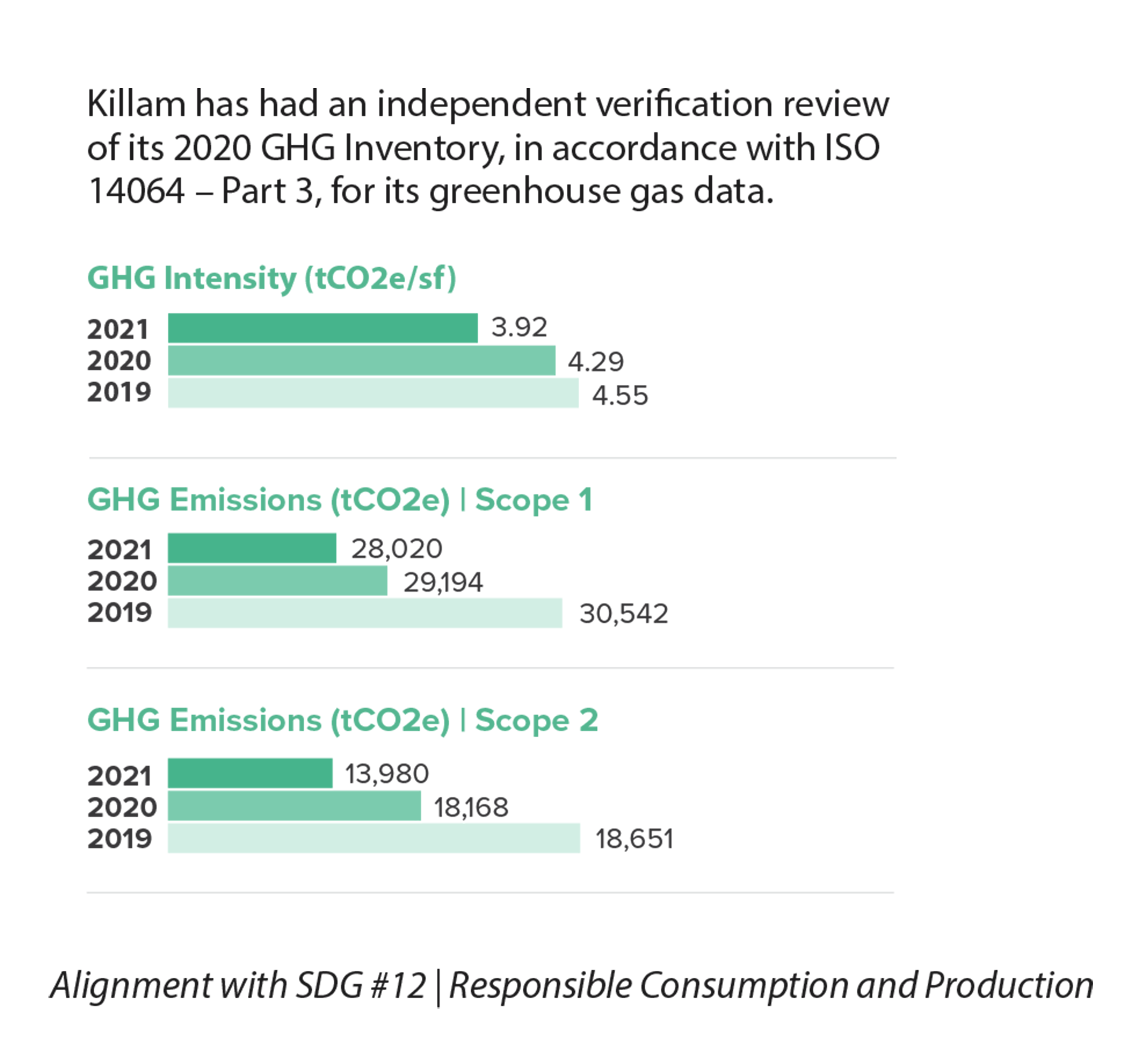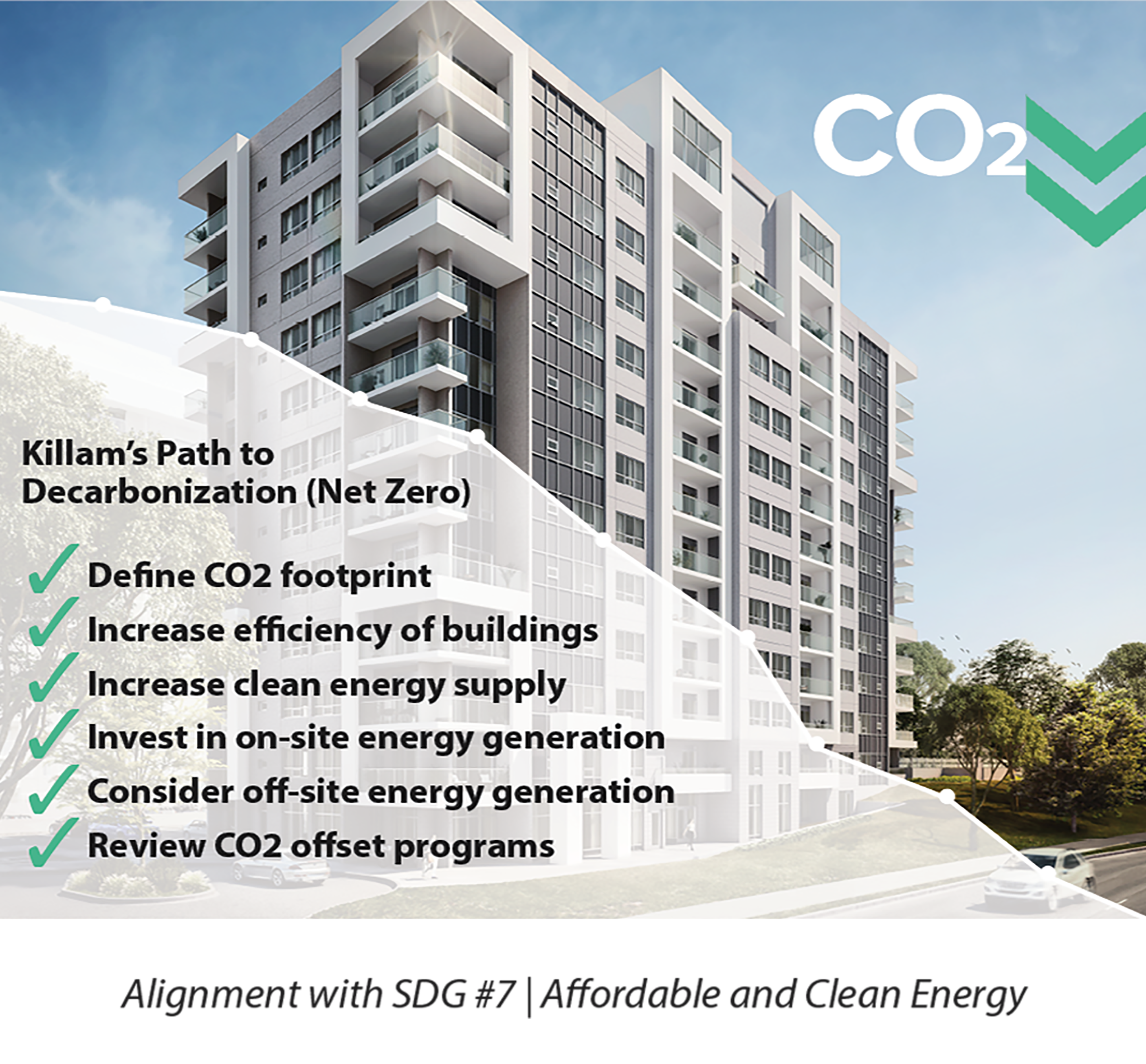 Environmental
Climate Change
Killam recognizes it faces a variety of different environmental, social and governance risks with respect to climate change. To improve the resiliency of its portfolio, Killam is updating and implementing sustainable policies, investing in technology, and switching to greener forms of energy, while relying on Task Force for Climate-Related Financial Disclosures (TCFD) recommendations to assess and disclosure climate-related risks and opportunities.

Environmental
Renewable Energy - Solar Power
Killam has installed photovoltaic (PV) solar panels at 11 of its properties in Halifax, Waterloo and Charlottetown. Killam plans to invest in PV solar projects at seven additional properties in 2022, and as the cost of solar continues to decline, Killam expects to increase PV solar throughout its portfolio. Killam will also explore purchasing or developing off site renewable electricity if a property is not suitable for onsite solar or has limited roof areas to meet energy needs.
Environmental
Renewable Energy - Geothermal
Killam is a leader in installing geothermal heating and cooling systems with its new developments and in 2021, Killam installed a geothermal system at three developments. Once completed, Killam will have six buildings and approximately 1,000 units using geothermal heating and cooling sources.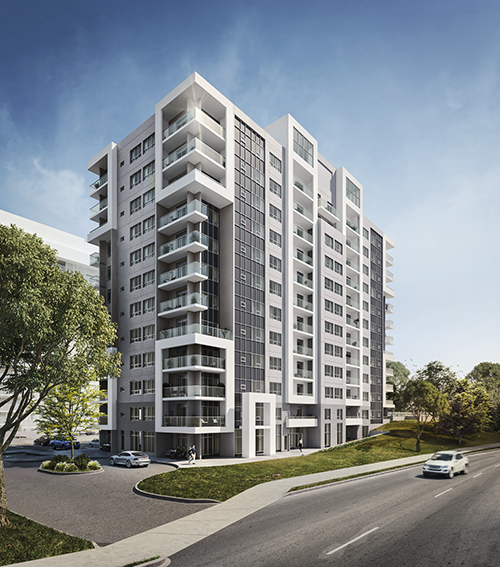 THE KAY 
LOCATION 3610 Dixie Rd, Mississauga, ON

SIZE 12-Story high-rise concrete building
TOTAL SUITES 128
PROJECT BUDGET $57.0M ($445,000 per suite)
COMPLETED April 2022
 
---

 50 wells drilled to a depth of 600 feet or more to circulate a mixture of
75% water and 25% propylene glycol to and from the ground in a
closed loop system.
 

 Optimal window glazing and insulation, saving energy consumption.
 

 Water and hydro are separately metered to each unit, typically
resulting in a reduction in water consumption of 25% or more.
Environmental
Acquisitions and Renovations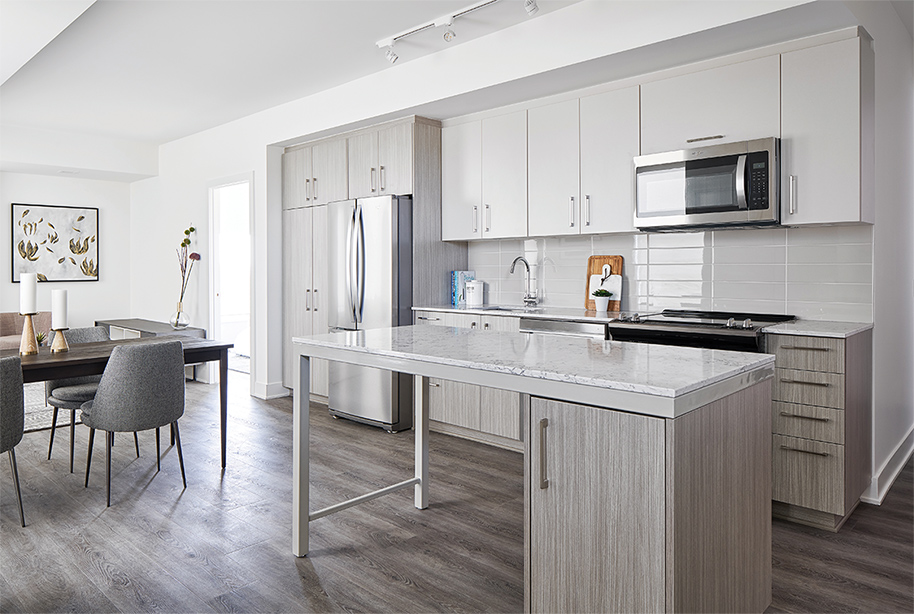 Apartment renovations and upgrades improve unit performance and comfort by installing the following:






Killam has 14 properties located in Ontario that have certified energy ratings under the Ontario Energy Water Reporting and Benchmark (EWRB) initiative.
Environmental
Sustainable Transport

In addition to supporting electrification of transportation, Killam is developing in urbanized environments that support direct access to public transportation.