Environmental
Sustainable Communities
Environmental
Energy Management
At Killam, resources are used in a responsible manner to preserve and protect the environment. By reducing our use of natural resources and managing waste responsibly, Killam limits its environmental impact and lowers its operating costs. Working towards a better environment by taking sustainable actions is a responsibility Killam takes seriously.
 

Energy Management | Developments
 
With new technology and renewable energy systems used to create sustainable homes for its residents, Killam has designed and built more than $450 million in new developments over the last 10 years using strategies aimed at improving energy and water efficiency and reducing each development's environmental impact. With geothermal heating and cooling systems, air-to-air heat pumps, building automation systems, energy-recovering ventilation, energy-efficient building envelopes, LED lighting, water-conserving fixtures and solar photovoltaics, Killam's development team aims to continually innovate with new technologies to reduce each new building's carbon intensity, reducing the long-term operating costs. All new developments have sub-metered water and electricity, encouraging tenants to reduce consumption.
 

Energy Management | Operations
 
Killam employs a range of energy management strategies, including sub-metering of electricity, water, and heat, reinsulating exterior walls and attics to minimize heat loss, installing boiler economizers to recover wasted exhaust heat, and switching from oil to cleaner heating fuels like natural gas and propane. Solar photovoltaic installations are also being implemented across Killam's portfolio. To effectively manage energy consumption, Killam employs real-time peak demand monitoring at select properties and regularly analyzes energy and water consumption data. The Trust is also investigating opportunities to convert fossil fuel-based heating systems to electricity in the future.  
 

Energy Management | Acquisitions
 
Killam's acquisition and disposition program aims to reduce the portfolio's overall greenhouse gas emissions and energy consumption. The acquisition team evaluates the energy efficiency of a property through the due diligence process, while the disposition identification process contemplates higher-emitting properties. The acquisition team considers every property's capacity to support Killam's sustainability goals and create long-term value for its unitholders and residents. In addition, Killam's suite renovation program and common area upgrades allow for opportunities to increase the energy efficiency of existing spaces, while also providing upgraded appliances and amenities to its residents.
Environmental
Greenhouse Gas Emissions
Killam is committed to supporting better environmental health, promoting long-term sustainability and reducing its carbon footprint by establishing greenhouse gas emission reduction targets and encouraging responsible resource use.

Killam has committed to measuring Scope 1 and Scope 2 GHG emissions, and to monitor progress, Killam conducts an annual GHG inventory that complies with The Greenhouse Gas Protocol. To ensure the accuracy and reliability of energy and greenhouse gas data, Killam engages Green Check (Risk Check Inc.) to perform an independent verification review in compliance with ISO 14064 - Part 3.
Scope 1 includes all direct emissions generated and managed by Killam, including building fuel consumption and fleet vehicles.

Scope 2 includes indirect emissions, purchased steam and electricity paid for by Killam.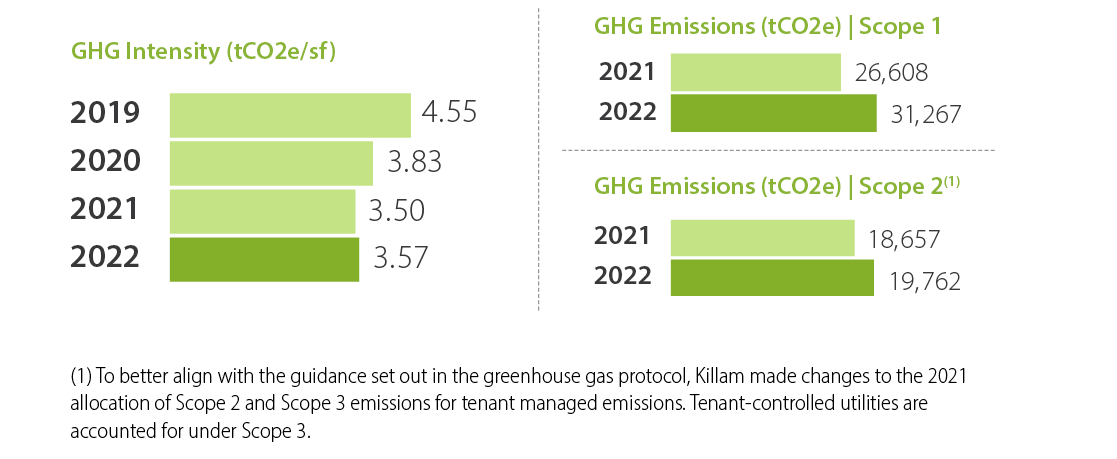 Environmental
Climate Change
Killam recognizes it faces a variety of different environmental, social and governance risks with respect to climate change. To improve the resiliency of its portfolio, Killam is updating and implementing sustainable policies, investing in technology, and switching to greener forms of energy, while relying on Task Force for Climate-Related Financial Disclosures (TCFD) recommendations to assess and disclosure climate-related risks and opportunities.

Environmental
Renewable Energy - Solar Power
At the close of 2022, Killam had installed photovoltaic (PV) solar panels at 17 of its properties in Halifax, Waterloo, Edmonton and Charlottetown. In 2023, Killam plans to invest an additional $1.5 million in PV solar projects, and as the cost of solar continues to decline, Killam expects to increase PV solar throughout its portfolio. Killam will also explore purchasing or developing off-site renewable electricity if a property is not suitable for onsite solar or has limited roof areas to meet energy needs.
Environmental
Renewable Energy - Geothermal
In 2022, Killam completed two additional geothermal systems, at the Kay in Mississauga, ON and at Latitude in Ottawa, ON. Killam already operated geothermal systems in London, ON, Moncton, NB and Ottawa, ON. A sixth system was installed at the Civic 66 development, a current 178-unit development underway in Kitchener, ON. Once completed, Killam will have approximately 1,000 units using geothermal heating and cooling sources.
 

 50 wells drilled to a depth of 600 feet or more to circulate a mixture of 75% water and 25% propylene glycol to and from the ground in a closed loop system.

 Optimal window glazing and insulation, saving energy consumption.

 Water and hydro are separately metered to each unit, typically resulting in a reduction in water consumption of 25% or more.

Environmental
Acquisitions and Renovations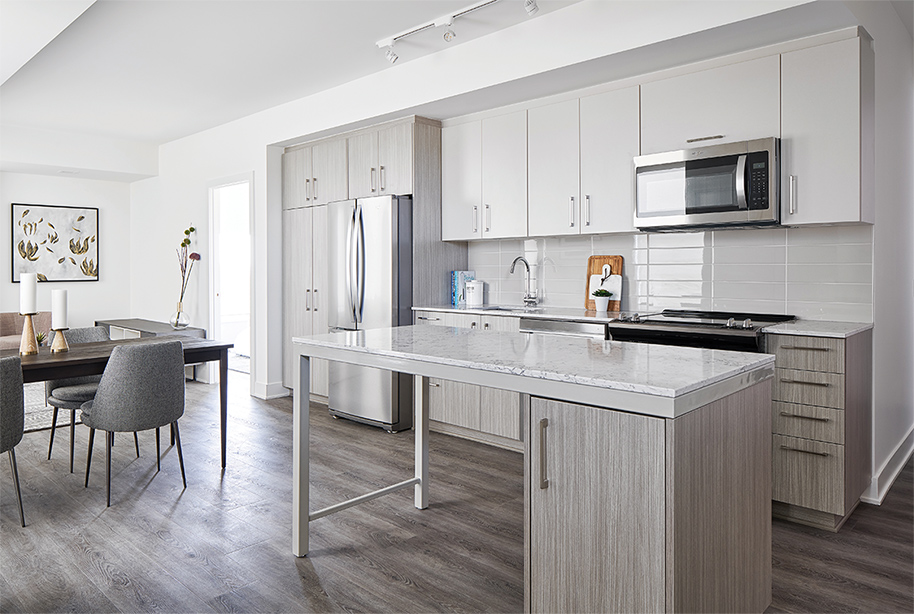 Apartment renovations and upgrades improve unit performance and comfort by installing the following:






Killam has 14 properties located in Ontario that have certified energy ratings under the Ontario Energy Water Reporting and Benchmark (EWRB) initiative.
Environmental
Sustainable Transport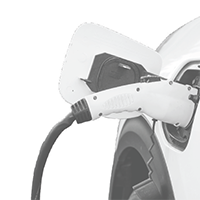 In 2022, Killam had 22 properties with 151 onsite Level II EV charging stations. In 2023, Killam is committed to installing an additional 370 Level II EV stations across another 40 properties and will continue to add EV charging stations at its existing properties, as needed. These new Level II chargers are capable of charging vehicles at a rate of up to 9.6 kW per hour and utilize an intuitive mobile application to allow drivers to pay per use. All new developments being built by Killam will incorporate EV chargers.
In addition to supporting electrification of transportation, Killam is developing in urbanized environments that support direct access to public transportation.